[GloryHoleSecrets] Raven Right - First Gloryhole Visit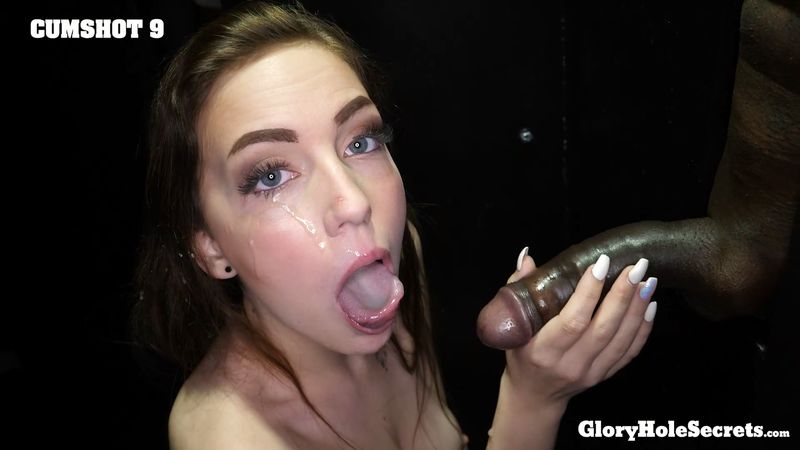 Just like the local grocery store, GloryholeSecrets.com likes to bring you the highest quality product, farm fresh. This week's cutie is just that, farm fresh and new to the industry from a small town in Northern California. 20-year-old Raven has only shot a handful of scenes, including her first gangbang coming soon to GangbangCreampie.com, but for now let's focus on her FIRST GLORYHOLE EVER today in the booth. You'll be hard-pressed to find her anywhere else on the Internet yet. Even though she is just a small town girl, Raven likes to party at night at hit the raves. That's why they call her "Raven!" Once all the raves got canceled in 2020, that's when she decided to go into porn. Raven has only been giving blowjobs for about three years and has never given more than one at a time. Today will be a new record as she puts up some double-digit stats on her knees. Some other impressive stats about Raven, at only 5'4 "and 110 lbs., She sports a delicious pair of natural 32Bs. They get affectionately fondled by the first two strangers on the other side of the wall as Raven's interview wraps up. Her little pink top gets flipped up by the guys and reveals her two natural wonders. We have to wait a little longer to see what she's hiding under those tight shorts, though. Even with them on, it's still pretty obvious she has a great little butt , but it remains a mystery what she has going on up front until she starts sucking and swallowing those loads and the shorts come off. Raven has a clean-shaven kitty that looks just as tight as the rest of her body. If her performance today in the gloryhole is any indicator of how good the rest of her career will be, we're all going to be seeing a lot more of Raven. If you want to see her back in the booth, speak up in the comments and we ' ll try and book her again before she just gets too popular. Come back again next week to see who we found as we continue to scour those small towns for more farm fresh babes on GloryholeSecrets.com!
Tags: 10 cumshots, Blow Jobs, Brunettes, Cum in mouth, Cum Swallow, First Time, Interracial, Petite, Shaved
Format : MPEG-4 at 6 314 kb/s
Length : 2.50 GiB for 56 min 47 s 531 ms
Video #0 : AVC at 5 989 kb/s
Aspect : 1920 x 1080 (1.778) at 59.940 fps
Audio #0 : AAC at 317 kb/s
Infos : 2 channels, 48.0 kHz
[GloryHoleSecrets] Norah Nova First GloryHole POV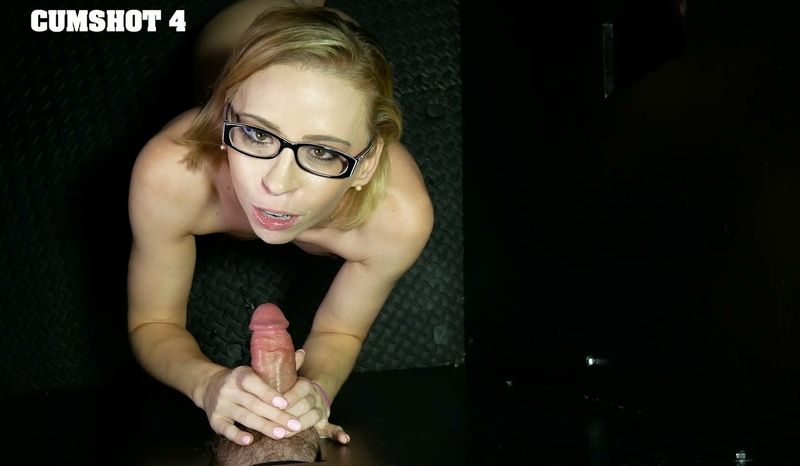 Format : MPEG-4 at 6 313 kb/s
Length : 1.14 GiB for 25 min 47 s 200 ms
Video #0 : AVC at 5 988 kb/s
Aspect : 1920 x 1080 (1.778) at 59.940 fps
Audio #0 : AAC at 317 kb/s
Infos : 2 channels, 48.0 kHz
[GloryHoleSecrets] Jenna Noelle First Gloryhole Visit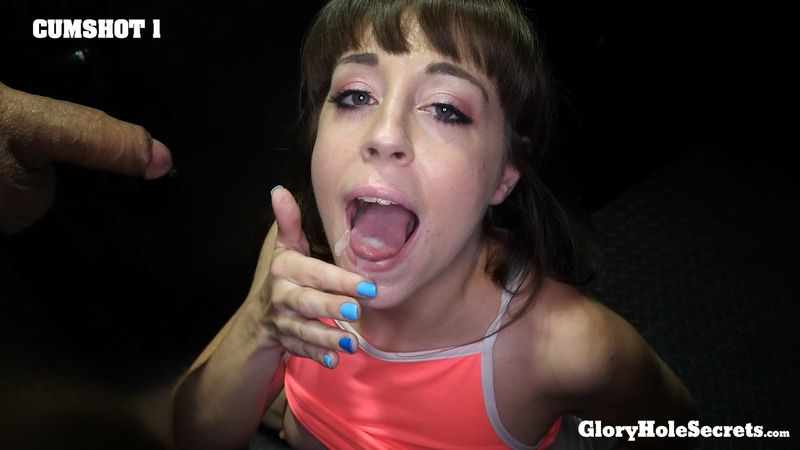 Just by looking at her, it may not come as a big surprise that not too long ago, today's gloryhole newbie was an art school kid, banging lots of hippie guys (and girls) while she occasionally attended classes. 27-year-old Jenna describes herself as a "closet slut," which is appropriate since she's essentially being a slut in a closet today as she blows and swallows the cum from a bunch of guys she doesn't know in the booth. There are a lot of things to like about Jenna, but one of her best attributes is her infectious laugh. She has a naughty girl giggle she keeps up as she blazes all the way through sucking off her team of faceless dudes on the other side of the wall. The only time the giggles stop is when she begs the guys to fuck her face and ram their cocks down her throat while she plays with herself. The giggling returns and turns to moans of pleasure as Jenna backs up on lucky anonymous dick # 5 and fucks the cum out of him with her tight pussy. With moves like that, it's no wonder Jenna bangs out a perfect score and gets 100% of her men off and swallows all their loads. She only gave herself a seven on the cock-sucking ten scale, but she was being modest. Jenna was nervous and excited since this was her FIRST GLORYHOLE EXPERIENCE ever, but those nerves turned into adrenaline that helped create her amazing debut and perfect accuracy. Just imagine how good Jenna could be if she came back for another round.
Tags: 11 cumshots, Blow Jobs, Brunettes, Cum in mouth, Cum Swallow, Deepthroat, Facial, First Time, Fucking, Hairy, Interracial, MILF, Sex
Format : MPEG-4 at 6 312 kb/s
Length : 1.70 GiB for 38 min 35 s 541 ms
Video #0 : AVC at 5 987 kb/s
Aspect : 1920 x 1080 (1.778) at 59.940 fps
Audio #0 : AAC at 317 kb/s
Infos : 2 channels, 48.0 kHz
[GloryHoleSecrets] Mary Jane First GloryHole Visit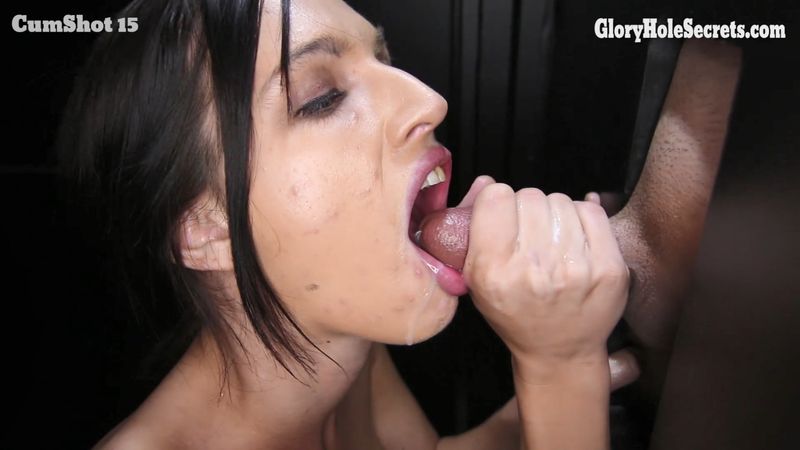 Format : MPEG-4 at 4 152 kb/s
Length : 2.46 GiB for 1 h 24 min 41 s 259 ms
Video #0 : AVC at 3 990 kb/s
Aspect : 1920 x 1080 (1.778) at 29.970 fps
Audio #0 : AAC at 157 kb/s
Infos : 1 channel, 48.0 kHz
[GloryHoleSecrets] Aleesa - Second GloryHole Visit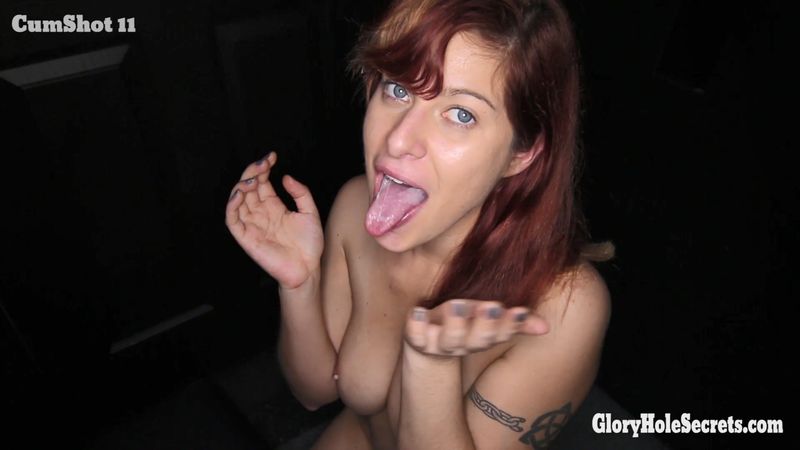 Format : MPEG-4 at 4 155 kb/s
Length : 2.37 GiB for 1 h 21 min 44 s 235 ms
Video #0 : AVC at 3 993 kb/s
Aspect : 1920 x 1080 (1.778) at 29.970 fps
Audio #0 : AAC at 157 kb/s
Infos : 1 channel, 48.0 kHz
[GloryHoleSecrets] Aleesa - First GloryHole Visit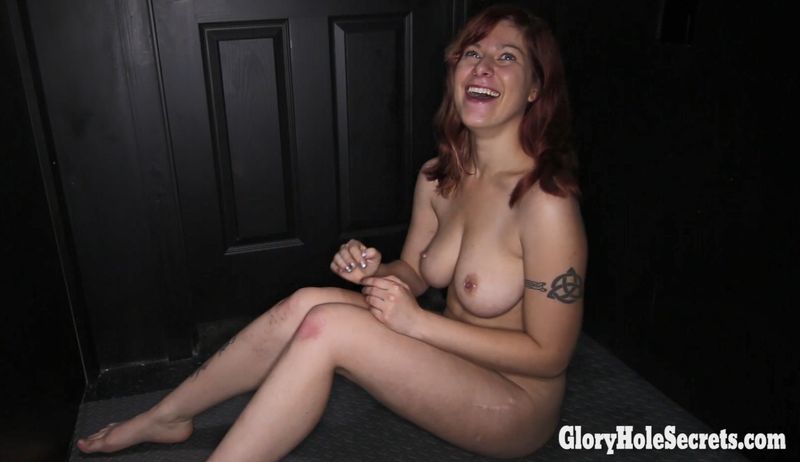 The kinky redhead Alessa pays a visit to our Glory hole. Be sure to catch her interview, she has some very interesting things to say. Cock number 1 pushes through the hole and she takes his cock deep inside her mouth. He starts to grow and she continues to deep throat him. She uses her hand as she sucks his delicious cock. She slurps his cum right out of his cock, cleaning it off nicely. She licks her fingers because she missed a few drops. She strips off her dress and exposes her big all natural tits and pierced nipples. She reaches over to cock number 2 wearing nothing but some sexy thong panties. He is already hard and ready for her hot mouth to wrap around him. He is big and hard but she still takes him all the way in her mouth, his cock disappearing down her throat. Some girls were just meant to do this and Alessa is one of them. She loves to worship all these strangers cocks and loves the taste of cum. Her head bobs up and down, she jerks his cock then plays with her wet pussy through her panties as she continues to blow his hard dick. He asks her to take off her panties and this sweet little thing does. She touches and rubs her pussy as she sucks him. Cock number 3 reaches his hand though the hole touching her pussy at the same time she continues to blow cock number 2. Cock number 2 explodes his load just after a few minutes watching her get off. She crawls over to cock number 3 and sucks her pussy juice off his 2 fingers.
[GloryHoleSecrets] Madison - Second GloryHole Visit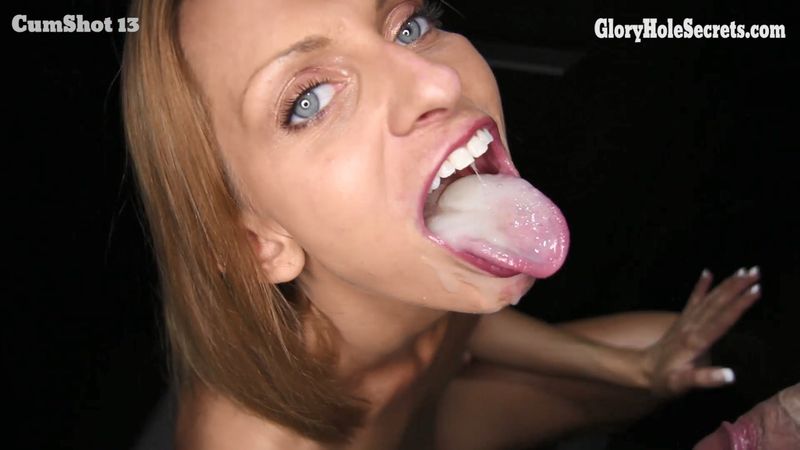 Welcome back the hot and horny Madison to our gloryhole. She is dolled up in her sexy, very tight blue dress with some sexy heels on as well. After a little interview she stands up and starts to call the guys back for their gloryhole fun. Madison LOVES to suck cock and she LOVES cum, so she is in the right place. Cock number 1 pushes through the hole already hard for her wet mouth. She wastes no time with him, she sucks and strokes him immediately. He doesn't take long before he fills her mouth up with his big load. She reaches down and touches her wet pussy. She giggles and asks him if he is still cumming. She wants to make sure she gets every drop. She moves over to cock number 2 and he is soft, but not for long either. She uses her amazing blowjob expertise on him, she has her legs spread so we can see her sexy black panties. She barely starts to suck him and he cums. She sucks him dry, shows his cream and then swallows. She pulls off her panties and spreads her legs. She touches her pussy while waiting for the next strangers cock to push through. She fingers her pussy and licks her fingers.
[GloryHoleSecrets] Madison - First Gloryhole Visit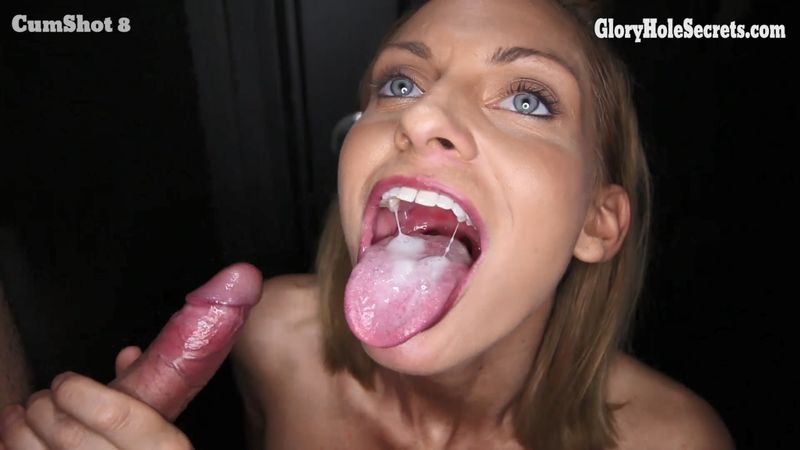 Welcome Madison to our Glory Hole! She is so sexy and gorgeous. This naughty girl is ready to suck whatever cock comes through the hole. Cock number 1 pushes through the hole and it doesn't take him long to get hard for her. She sucks some good dick. She wraps her pretty lips around him and goes to town. Madison was prepared today, she even bought her own vibrator. Cock number 1 pops his big load into her mouth. She is a pro at this, she sucks him dry, cleans him off and swallows his cum. She moves over to cock number 2. He is hard and ready for his turn. Madison touches herself through her panties, rubbing her pussy back and forth. She uses her mouth and hand on him until he blows his white cream into her mouth. She loves cum, she swallows and cleans him off as well. She stands up, takes off her wet panties, then strips off her dress and bra. She has a rockin body. She puts cock number 3 into her mouth and starts to use her vibrator on her soaked pussy. Madison wants to fuck cock number 3. She puts a condom on him and backs her ass up to the hole. Cock number 4 pushes through the hole at the same time.