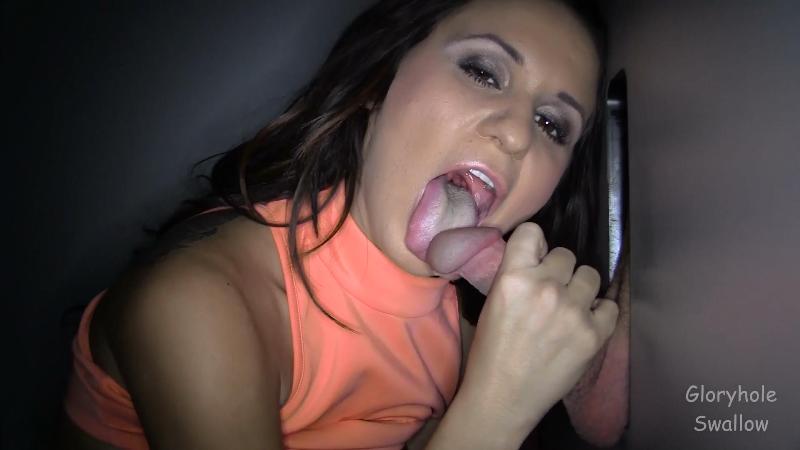 Год производства: 2013 г.
Жанр: Big Clit, Big Tits, Deepthroat, Deepthroat Cumshot, Fingering, Fucking, Latina, Masturbation, Petite, Piercings, Self-Shot, Shaved, Tattoos, Toy
Video: MPEG4 Video (H264) 960x540 30fps 2491kbps [V: English [eng] (h264 high L3.1, yuv420p, 960x540, 2491 kb/s)]
Audio: AAC 44100Hz stereo 125kbps [A: SoundHandler [eng] (aac lc, 44100 Hz, stereo, 125 kb/s)]
I thought I'd try something a little different this week. Meet Diega, one of the sluttiest girls I've taken to the Gloryhole so far. This chick use to go to local adult book stores with her b/f so they could both share cocks through the Gloryhole. He use to make her go to one of their favorite places so she could suck off strangers alone in the booth. The catch is he would give her a specific number of guys she had to service before she left and record the video on her phone for his viewing pleasure.
When she told me about this I thought it would be fun to let her fly solo in the booth with the camera, that way would could experience her earlier adventures. It was a gamble on my part and I had no clue how it was going to turn out but I was pleasantly surprised and i think you will be to.
She's one of those girls that gets off on gagging herself with a cock and took a few impressive deepthroat cumshot swallows which she held nice and long so we could see the cock pulsing as the entire load was being pumped down her throat. How this didn't make her gag is beyond me. I also had no clue how flexible she was until she did the wall splitz to let guys fuck and finger her while she was wide open. This girls is full of sexual talent and would make an excellent fuck toy.
She loves playing with cum and spit a few big loads into her hand for us to see before slurping them up nice and clean like a thorough cock sucker would.
Even though she's done this before for her b/f, I don't think it would always take an experienced girl to pull something like this off. I can set the camera up for the girl and then leave her alone to let her do her thing. I flip the display around so they can see what they are doing and show the camera the cum before swallowing. I think this would work best on a return visit because the first-time jitters are normally minimized at that point so they wouldn't be too overwhelmed and freaked out about being alone in the booth.
I didn't think she would let a strange guy join her in the booth but then again this chick is a total freak and she really got into it. She obviously had a good feeling about the guy she let in with her but you could see by her expression that she had to really think about it first.
Let me know what you guys think about this one. If you like it then I can do this once in awhile for a more intimate experience with your favorite girl.