[PremiumBukkake] Damaris #1 - Bukkake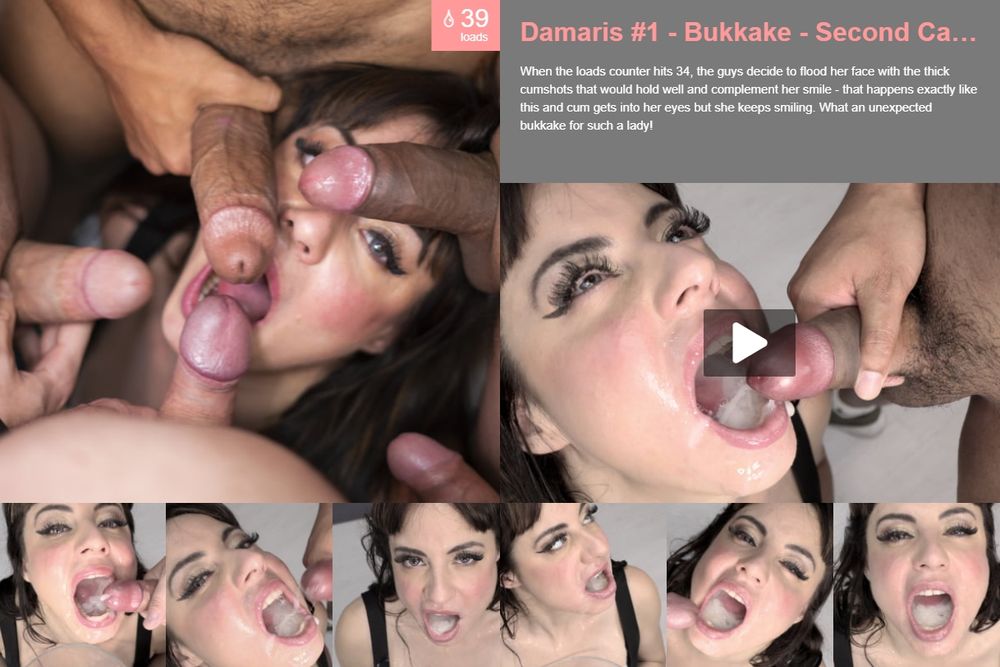 Production Year: 2020.6.24
Actress Name: Damaris
Genre: Bukkake, Swallow
Look at this Spanish lady Damaris, a lovely MILF that is into kinky stuff but haven't tried bukkake yet! So far, this is her first cum swallowing experience and she starts with double blowjobs that quickly turn into a real blowbang! When five guys surround her at once, her face is warmed with a wide smile!
When the cum starts to spurt into her wide open mouth, she eagerly catches the loads and holds them well, collecting her mouth full of sperm and helping to direct the loads inside. She swallows her first several dozen loads without hesitation, waiting for more.
When the loads counter hits 34, the guys decide to flood her face with the thick cumshots that would hold well and complement her smile - that happens exactly like this and cum gets into her eyes but she keeps smiling. What an unexpected bukkake for such a lady!
Video Format: MP4
Video: H.264 / AVC, 1280x720, 50 fps, 5100 kbps
Audio: AAC, 2.0, 44 kHz, 128 kbps
Duration: 00:23:59
[YouthLust] Autumn Double Teamed Schoolgirl - Teen, Blowbang, Bukkake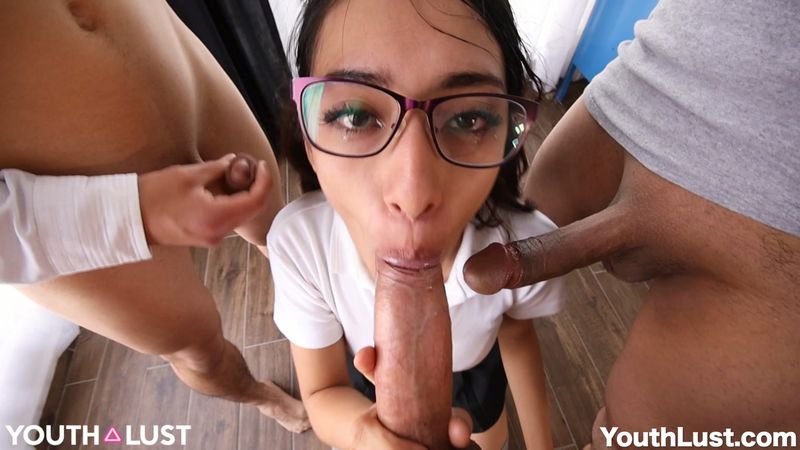 Production Date: 2020
Genre: All Sex, Blowjob, Cumshot, Facial, Latin, Petite, Brunette, Teen, Threesome, Amateur
Duration: 00:32:15
Description: I have got a really good impression on Autumn. She did fantastic in this vid where she gets fucked by two guys. She is very enthusiastic and I can tell she deserves some even harder scenes. I fucked up at the end and didn't record part of the facial, for that reason we filmed some extra footage with the director and a camera man cumming on Autumn's face. In the end she got five facial cumshots. I recommend this vid as Autumn was a real little whore.
HD video type: 1080p / 720p
Video Format: MP4
Video: MPEG4 Video (H264), 1920x1080, 30fps, 12827kbps
Audio: AAC, 48000Hz, stereo, 128kbps
Video #0 : AVC at 6 000 kb/s
Aspect : 1280 x 720 (1.778) at 30.000 fps
Audio #0 : AAC at 124 kb/s
Infos : 2 channels, 48.0 kHz
Lexi Lowe - Anal, GangBang, Blowbang, IR, Bukkake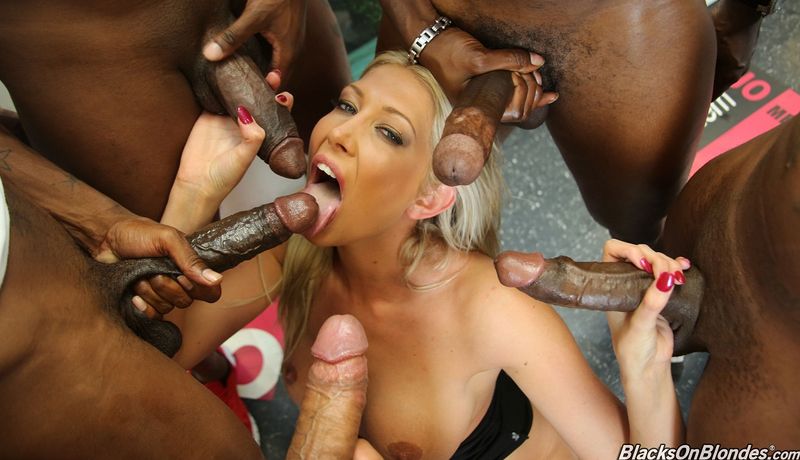 Year of production: 2016
Genre: Anal, GangBang, Blowbang, IR, Bukkake
Duration: 00:32:04
HD video type: 1080p
Video Format: MP4
Video: MPEG4 Video (H264) 1920x1080 59.94fps 10000kbps
Audio: AAC 48000Hz stereo 128kbps
Gulliana Alexis - BlowBang Me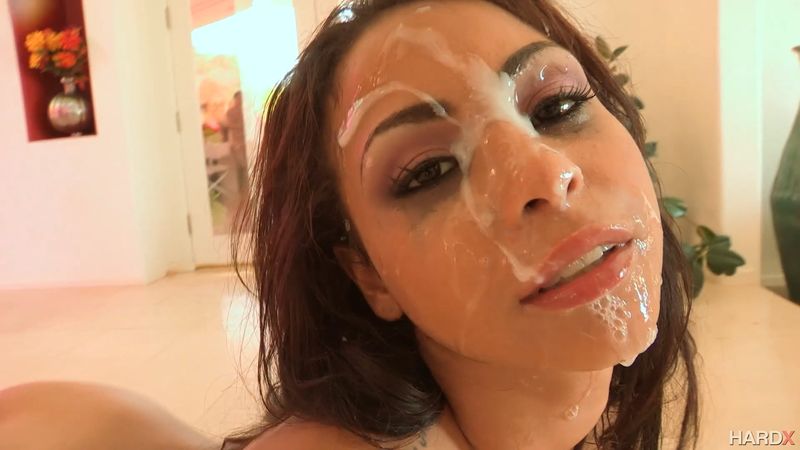 Year of production: 2015
Country: USA
Genre: Gonzo, Blowbang, Bukkake
Format : MPEG-4 at 6 929 kb/s
Length : 1.91 GiB for 39 min 31 s 405 ms
Video #0 : AVC at 6 800 kb/s
Aspect : 1920 x 1080 (1.778) at 29.970 fps
Audio #0 : AAC at 152 kb/s
Infos : 2 channels, 44.1 kHz
Jayden Lee - BlowBang Me
Year of production: 2015
Country: USA
Genre: Gonzo, Blowbang, Bukkake
Format : MPEG-4 at 6 951 kb/s
Length : 1.95 GiB for 40 min 8 s 876 ms
Video #0 : AVC at 6 800 kb/s
Aspect : 1920 x 1080 (1.778) at 29.970 fps
Audio #0 : AAC at 152 kb/s
Infos : 2 channels, 44.1 kHz
The Bad Seeds: Tegan Tate Brutally Takes Four Cocks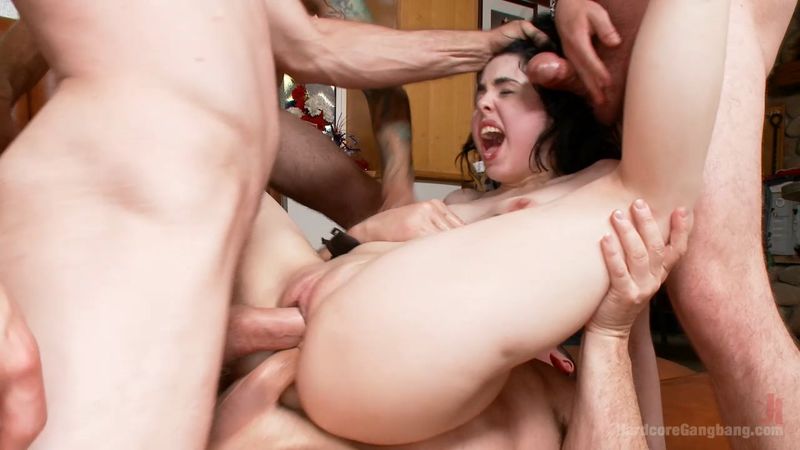 Date: 2020
Date of production: 09/10/2014
Genre: BDSM, Hardcore, Anal, Blowjob, Double Penetration, Gangbang, Cumshots, Facial, Deepthroat, Masturbation, Handjob
Duration: 00:49:37
Studio: Kink.com
Cast: Tegan Tate, John Strong, Tommy Pistol, Jordan Ash, Dane Cross
Director: Princess Donna Dolore
Description: Tegan Tate is tired of being a good girl. She's had her eyes on a gang called The Bad Seeds, who are always up to some mischief. She sits at a picnic table near where The Bad Seeds hang out and tries to get noticed. The gang's leader, Princess Donna sits at the table with Tegan. She talks to her and convinces Tegan that if she fucks the whole gang, she'll become a member. Tegan agrees to meet the boys on the weekend, same time, same place. As Tegan approaches the meeting point, she suddenly gets a leather jacket thrown over her head and is immediately swooped up and taken inside the building by the boys from The Bad Seeds.
Zoey Laine - Watching My Daughter Go Black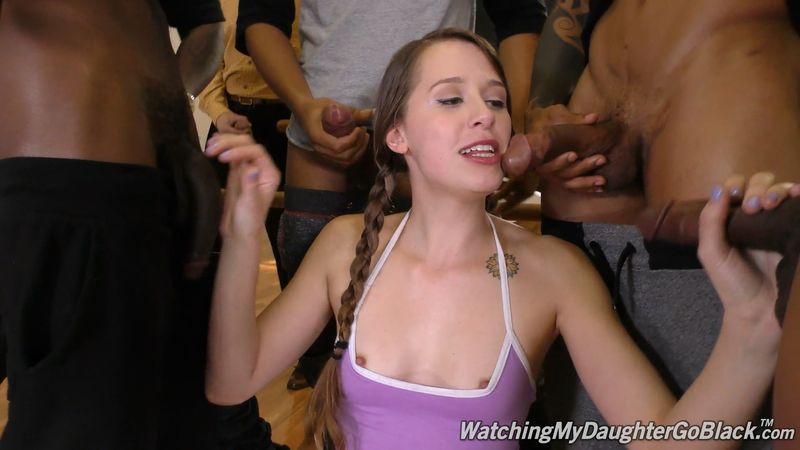 Year of production: 2017
Genre: Gangbang, Swallow, Interracial, Blowbang
Duration: 00:30:08
Description: Sometimes, Zoey Laine's step-dad is a winner. When he wins, he wins big. Just look at Zoey's dance studio! She earned that after a big win. However, today, Zoey's step-dad is a big, fat loser. He's got to break the news to Zoey, which is when The Crew rolls in. They're there to collect. Money Lots of money. Of course Zoey's step dad doesn't have it, and right before he's about to get the beat down of his life, Zory Laine comes to the rescue. She does a great job of turning the attention to her, and it comes in the form of a tight, barely-legal body; a wet, willing mouth; and a tight, tight cunt. The Crew has their way with Zoey, pounding her silly, while loser, creepy step-dad copes with the situation by turning it sexual. He's sniffing Zoey's wet yoga tights and jerking, and after Zoey swallows all five loads, what happens next? You got it. And what's running through Zoey's mind as step-dad drops his nut down her throat !? Like she said from the beginning, when The Crew showed up: "I can't believe my mom married you!"
HD video type: 1080p
Video Format: MP4
Video: MPEG4 Video (H264) 1920x1080 59.94fps 9992Kbps
Audio: AAC 128 kbps stereo 48.0 KHz
The Gang Bang Of Bonnie Rotten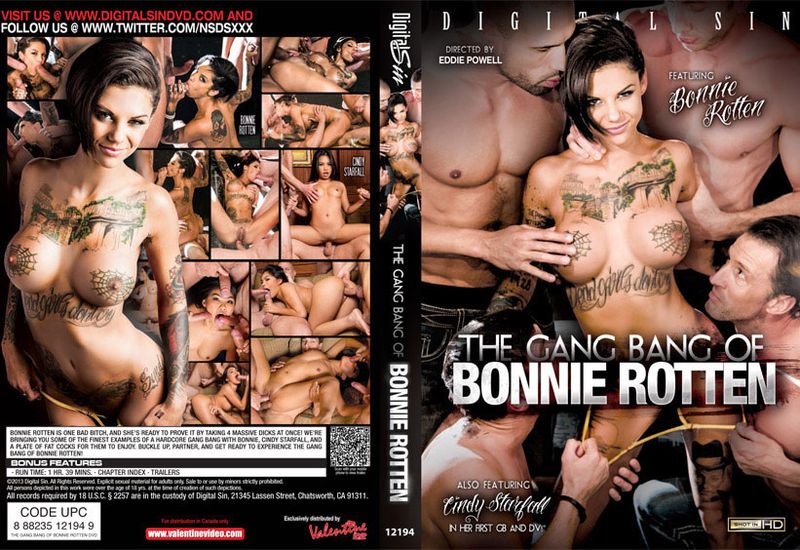 Year of production: 2013
Country: USA
Genre: Gonzo, Anal, Gangbang
Duration: 01:39:00
Cast: Bonnie Rotten, Mick Blue, Mark Davis, Ramon Nomar, Jordan Ash, Tony de Sergio, Michael Vegas, Tommy Pistol, Cindy Starfall, Karlo Karrera
Description: Featuring Bonnie Rotten! Also Featuring Cindy Starfall In Her First GB And DV! Bonnie Rotten is one bad bitch, and she's ready to prove it by taking 4 massive dicks at once! We're bringing you some of the finest examples of a hardcore gang bang with Bonnie, Cindy Starfall, and a plate of fat cocks for them to enjoy. Buckle up, partner, and get ready to experience the gang bang of Bonnie Rotten!
HD video type: 1080p
Video Quality: WEB-DL
Video Format: MP4
Video Codec: H.264 / AVC
Audio Codec: AAC
Video: 1920x1080 16/9 29970 fps 6800 kbps
Audio: AAC Dolby Digital, 44.1Hz, 2ch, 152 kbps